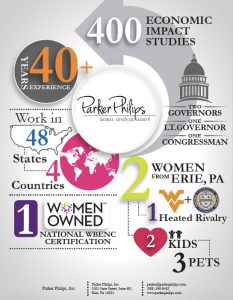 The Best Economic Impact Studies Make an Impact.
Many organizations understand the value in completing an economic impact study—it can be a tremendous asset in your marketing and planning toolbox. Whether it is to show the projected impact of a new venture, the loss associated with proposed cutbacks, or to demonstrate the value of existing operations, when done well, an economic impact study can become the heart of an organization's strategic planning and communications efforts. But, alas, not all economic impact studies are created equal.
When the time comes for your organization or company to assess its impact, it is critical that an economic analysis is conducted with an adherence to industry standards and norms that rival an Army sergeant's affection for perfection. When considering a consultant, keep in mind that IMPLAN is the market leader in economic modeling software, and like any tool, it is only as good as the analyst who is using it. Anyone can dump ingredients into a bowl, but only a well-trained, expert baker understands the science behind what makes the bread dough rise—if your study doesn't pass the sniff test you probably needed a better baker. Experience matters and expertise is hard to find.
Successful, defensible economic impact studies check these boxes first:
Utilize a credible methodology and appropriate multipliers.
Base every study on actual data that is verifiable.
Conservative is defensible—keep it real.
Economic analysis always trumps marketing needs.
Before focusing on selling your study, find the team that forces you to factor in the right numbers, which ensures the defensibility of it. Believability in a study is driven by strong data and analysis, and is reinforced by compelling narrative and stories – the numbers drive the narrative. A study that is conservative is defensible, and defensible numbers make sense when it is time to present the findings.
Studies of this nature will inevitably be examined closely and numbers can be questioned. But if you use sound data, a trusted methodology, and an expert analyst, the findings of an impact study can become one of the strongest arrows in your marketing quiver.
So now is the time to put your analysis to work. The biggest weakness among economic impact studies is that your message gets lost among the wonky writing and wrong wallpaper. We live in a visual world that relies heavily upon clear, concise, and convincing communications.
Successful, understandable economic impact studies check these boxes first:
Topline numbers front and center.
A nuanced narrative that fits your market, your brand and your communications strategy.
Numbers are used in a context that are relatable to readers.
Build the narrative in the voice of people who are telling the story—quotes, vignettes and testimonials.
Don't stop before you reach all social media platforms.
Most economists will agree that as long as the core of a study is strong, statements are true and you do not overstate the impact, the messaging can take on a form that supports your mission.
Much like in the most effective blog posts, people have to want to read it to get your message. Having completed more than 400 economic impact studies, I don't mind saying there is no firm better at telling your economic impact story than Parker Philips—check it out at www.parkerphilips.com.